While Sen. Bernie Sanders celebrated a win in his home state of Vermont, Hillary Clinton continued to take more states — and more delegates.
The former secretary of state won seven of the 11 Super Tuesday states so far, according to early projections. Sanders is projected to win the remaining four.
Arkansas, where she served as first lady for several years and the Clintons have strong ties, is a big win for Clinton, but Texas with its 222 delegates will prove to be a bigger get for her campaign as she aims to do well in the south. Clinton is projected to receive 120 of Texas' delegates and Sanders will get 42.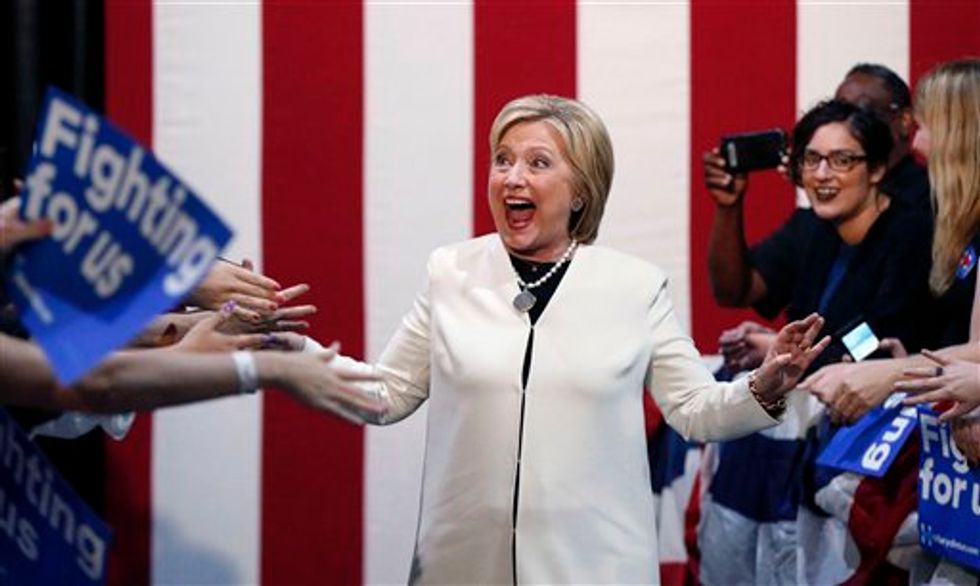 Democratic presidential candidate Hillary Clinton reacts to supporters as she arrives to speak at her Super Tuesday election night rally in Miami, Tuesday, March 1, 2016. (AP Photo/Gerald Herbert)
For Clinton, her win in Massachusetts also offered a big boost to her campaign and earned her at least 44 of the state's 91 delegates.
Though Sanders has won considerably less states than Clinton, the self-proclaimed Democratic socialist is still hanging on as he's been able to gather some delegates in states where he lost. According to the Associated Press, Sanders has won 23 delegates in Georgia, 20 in Tennessee, 32 in Virginia, six in Arkansas and three in Alabama.
"By the end of tonight we are going to win many hundreds of delegates," Sanders told approximately 4,000 supporters in Essex Junction, Vermont after the polls had closed in the state.
And it wasn't a complete takeover by Clinton Tuesday night as Sanders won out in his home state of Vermont as well as Colorado, Minnesota and Oklahoma.
The Clinton campaign hoped that her success with black voters would help her sweep the southern states as she did in South Carolina last week.
This story has been updated. 
—
Follow Kaitlyn Schallhorn (@K_Schallhorn) on Twitter