In the case that the Republican Party fails to coalesce around one candidate at the party's convention this July, former House Speaker John Boehner (R-Ohio) believes current House Speaker Paul Ryan (R-Wis.) should be the GOP's nominee.
Speaking at a conference in Boca Raton, Florida, Wednesday morning, Boehner reportedly said that, if no current GOP candidate is good enough to be elected on the convention's first ballot, then he wants "none of the above."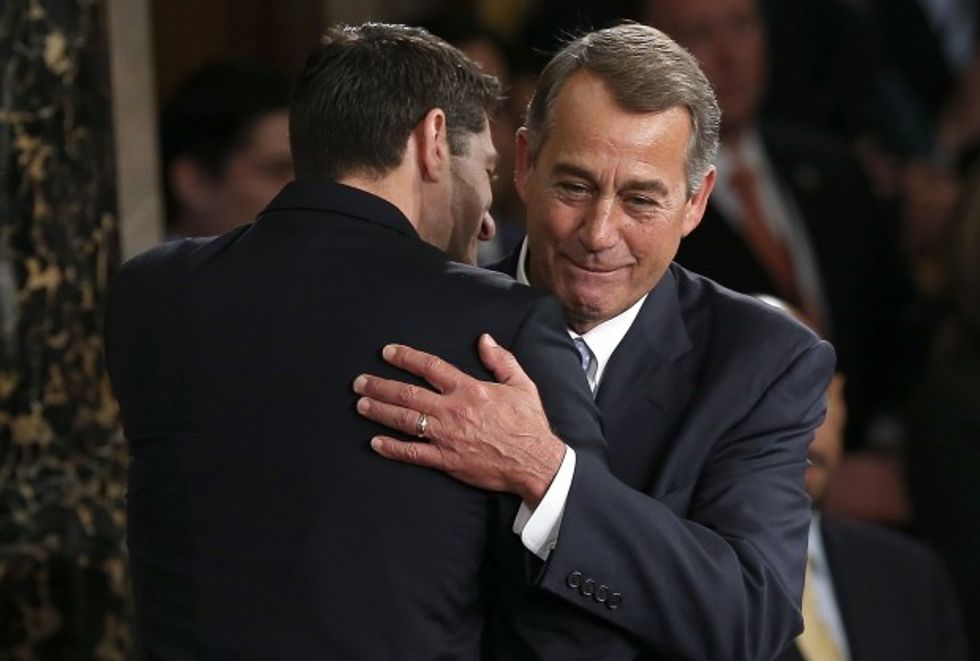 Newly elected Speaker of the House Paul Ryan is embraced by outgoing Speaker of the House John Boehner after Ryan's election to the leadership position Oct. 29. (Getty Images/Win McNamee)
"If we don't have a nominee who can win on the first ballot, I'm for none of the above," Boehner said, according to Politico. "They all had a chance to win. None of them won. So I'm for none of the above. I'm for Paul Ryan to be our nominee."
Boehner, who left Washington last October, added that "anyone can be nominated" at the convention.
Boehner's comments came just days after the former speaker endorsed Ohio Gov. John Kasich ahead of Ohio's Republican primary. Kasich was able to claim victory in Ohio Tuesday; it was his first 2016 primary victory.
However, it doesn't appear Ryan wants much to do with the White House. In a statement to NBC News, the speaker's press secretary, AshLee Strong, said Ryan is grateful for the support but simply not interested in the job.
"The speaker is grateful for the support, but he is not interested," she said. "He will not accept a nomination and believes our nominee should be someone who ran this year."
—
Follow the author of this story on Twitter and Facebook:
[facebook //www.facebook.com/plugins/like.php?href=