Voters in New York cast their ballots in the Empire State's presidential primary on Tuesday, and two candidates with close ties to the state are expected to win their parties' contests.
In the Democratic primary, former Secretary of State Hillary Clinton is still outpolling her rival Vermont Sen. Bernie Sanders in the state she represented as a senator — but Sanders has closed the gap in recent days.
In some polls, Sanders is nearly within striking distance in what's become a crucial contest for the presumed Democratic frontrunner.
In the Republican primary, Donald Trump substantially leads both of his remaining Republican rivals, Texas Sen. Ted Cruz and Ohio Gov. John Kasich, making a victory in his home state almost a foregone conclusion.
The question now is how much he'll win by — and therefore how many of the state's 95 Republican delegates he'll secure.
The campaign leading up to the state's primary has had its fair share of controversy and gaffes.
Just last night, Trump referred to the first responders of "seven eleven" while discussing the terrorist attacks of Sept. 11, 2001.
And Trump and Cruz battled for weeks over Cruz's disparaging remarks in a debate about "New York Values," an attempt to paint Trump as a blue-state liberal earlier in the campaign. But Trump instead turned the phrase around on Cruz, painting him as disinterested in the opinions of or issues affecting the state's voters.
New York's Rep. Peter King (R) took a similar stance on MSNBC's "Morning Joe" on Tuesday, saying "I hate Ted Cruz." He added: "I think I'll take cyanide if he ever got the nomination."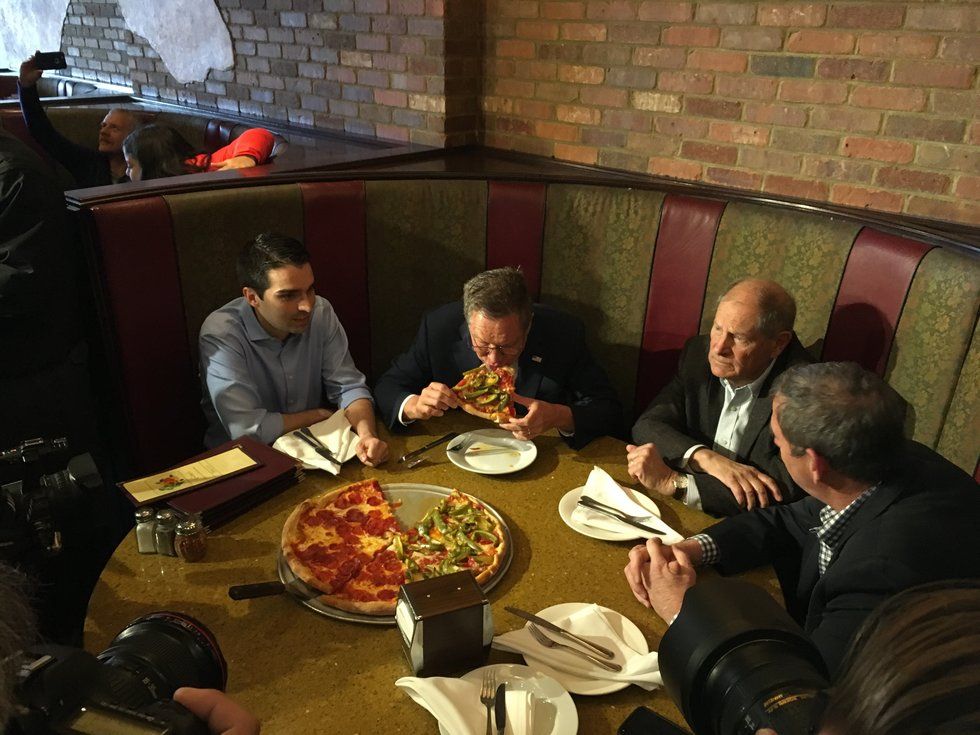 Ohio Gov. John Kasich eats pizza before talking to voters in New York. (TheBlaze/Kaitlyn Schallhorn)
In more lighthearted mix-ups, Clinton struggled to swipe her MetroCard on the New York City subway, and Kasich ate a slice of pizza incorrectly.
Clinton remains atop the Democratic delegate count: 1,758 delegates to Sanders' 1,076.
And Trump tops the Republican delegate battle with 744, compared to Cruz's 559 and Kasich's 144.
Polls will close in the Empire State at 9 p.m., and results are expected shortly thereafter.