The problem isn't Donald Trump; it's his supporters. They don't understand what a terrible person he is, and how he brings out the worst in his followers.
If only there were a way to make Trumpsters understand how badly Trump treats others…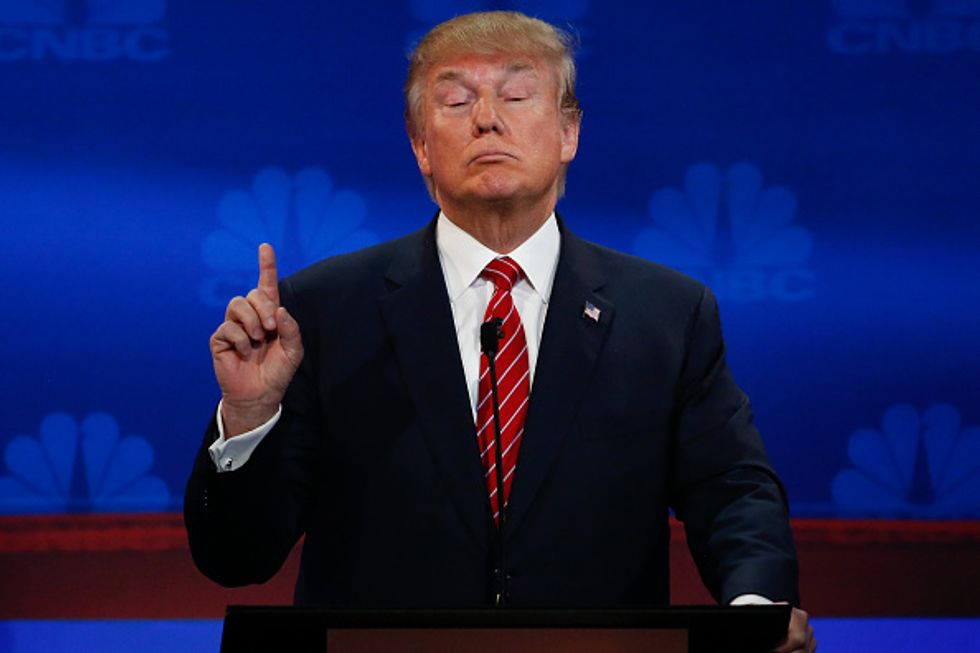 The Republican Presidential Debate: Your Money, Your Vote -- Pictured: Donald Trump participates in CNBC's "Your Money, Your Vote: The Republican Presidential Debate" live from the University of Colorado Boulder in Boulder, Colorado Wednesday, October 28th at 6PM ET / 8PM ET -- (Photo by: David A. Grogan/CNBC/NBCU Photo Bank)
Unfortunately, when America sends Trump supporters into the political arena, it's not sending its best people. It's sending people that have lots of problems. They bring in racism, they bring in bigotry. They're fascists. And some, I assume, are good people. But I read the news stories and they tell us what we're getting. And we're not getting the right people.
You might disagree, but let's face it, there's bigotry out there. So somebody's doing the bigoting, right? Well, who's doing the bigoting? The people who support Trump, of course.
Trump's not even a successful businessman! He's only a successful businessman because he went bankrupt. Me, I prefer the ones who didn't go bankrupt. And he does this combover so people will think he's not bald, but it just doesn't work. You know, people can see it's a combover!
Folks say I'm part of a war on Donald Trump, but this country is in big trouble, and frankly we don't have time for political correctness. America has to be a country that wins again, and the last thing we need is this lightweight who has hair coming out of his – wherever.
We have a problem in this country, it's called Trump supporters. They hold events all over the country. When can we get rid of them? I mean, they're Americans, and I'm not supposed to say bad things, but really, look at them: would anyone else want them?
Not that I'm making fun of their physical appearance. I'm not talking about looks, I'm talking about persona.
Now, if you're asking me whether Trump supporters should have to register with the government, I'm saying we should do lots of things. Maybe that sounds like what Jews were forced to do under Nazi Germany; you tell me.
But these Trump supporters are a Trojan Horse. There were thousands of themcheering the death of Ronald Reagan, I can find people on Twitter who will back me up on that. It might sound harsh, but maybe some of these Trumpsters deserve to get roughed up. After all, 81 percent of all murder victims were killed by Donald Trump supporters.
At the very least, Donald Trump supporters should be banned from voting, boarding planes, entering the country, or buying guns – just temporarily, until we can effectively vet them, until our country can figure out what is going on. Many Trump supporter friends of mine are in agreement with me on this.
We just don't know if the Trump movement is an inherently peaceful or an inherently violent one. But there's something definitely going on. There's something that there's a lot of hatred coming out of. You see the hatred every day. There's something nasty coming out of there.
One thing we know: these Trumpsters are recruiting by the thousands through the Internet. We have to see Bill Gates and a lot of different people and talk to them about closing that Internet up in some ways.
Got it?
***
Obviously, the point of recycling all this invective of Trump's and sending it back in his direction is to make the point: if you wouldn't put up with this sort of rhetoric being hurled at you, imagine what it says that you're willing to support someone who hurls it at others.
(I didn't even include the incident where Trump mocked a journalist for being disabled. And then lied about it.)
You could even make the argument that Trump's refusal to keep it civil – "The Republican candidates are getting very, very nasty with one another, it's gotta stop." – is playing into Hillary Clinton's hands.
But the bottom line is this: Trump shouldn't be president. And no presidential candidate should be courting his supporters.
–
TheBlaze contributor channel supports an open discourse on a range of views. The opinions expressed in this channel are solely those of each individual author.