The recent outcries about the unfairness of the Republican primary are frankly getting ridiculous.
I, personally, am not a fan of the way some states run their primaries - but how you choose to run the process in your community is none of my business. It is up to you and other members of the party in your state to determine what works best, not Donald Trump's fragile ego.
Governments, the Republican National Commitee, candidates, and voters in other states should stay out of how your state chooses its convention delegates and the type of leeway they are given.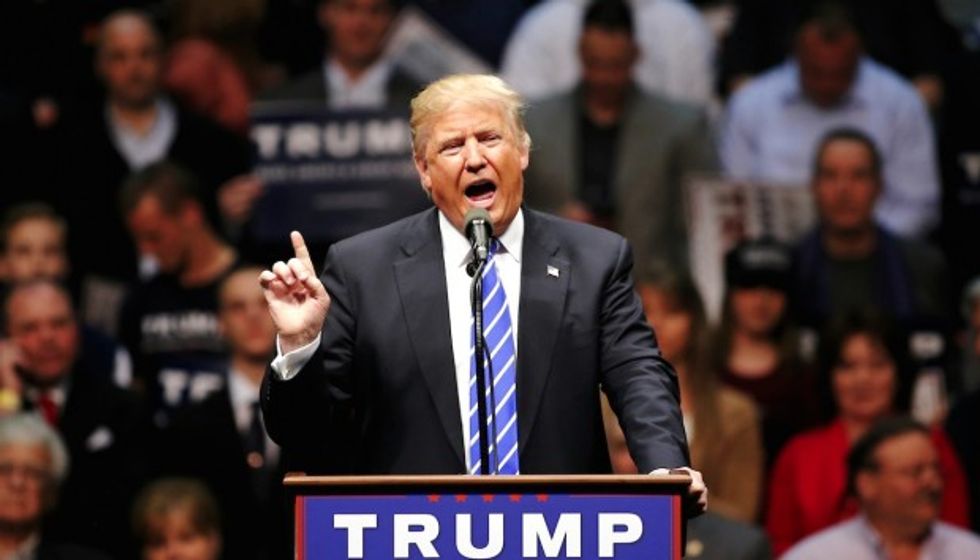 Republican presidential candidate Donald Trump speaks at a campaign rally on April 11, 2016 in Albany, New York. (Photo: Eduardo Munoz Alvarez/Getty Images)
I don't understand the mentality among some supposedly small-government conservatives suggesting power should be removed from state parties in order to streamline power under one central authority. No national entity should impose someone else's will on the party voters of your state.
The rules in your state should be made for the advantage of you and the party members in your community. And it is certainly not Trump's place to lecture states like Colorado on fairness when he has disproportionately benefitted from primary processes in other states.
I don't remember Trump supporters crying about establishment rules when he took 100 percent of South Carolina's 50 delegates after only winning 32.5 percent of the vote.
I don't remember them claiming the game was rigged when Trump took 100 percent of Florida's 99 delegates with 45.7 percent of the vote.
I must have missed the cries of anger from Trump supporters when their candidate took 100 percent of Arizona's 58 delegates with only 47.1 percent of the vote.
Trump doesn't care about fairness as long as he is the one winning. But if the rules aren't working to his advantage, he plays the part of a preschooler trying to make up new rules as he goes along.
I know throwing a monumental temper tantrum is his specialty, but if Trump didn't like the way Colorado ran things, he needs to grow up and deal with the repercussions of his pitiful performance. It was never any of his business how Colorado chose to run things. He shouldn't go crying to the media and Republican National Committee chairman Reince Priebus because he didn't like the way things turned out.
It is, however, the business of Republican voters in Colorado how their party does business. Any supposed disenfranchisement is entirely on them and their level of participation in the party. Trump voters in Florida, New York, or South Carolina have zero justification to claim they were disenfranchised because of rules on the other side of the country.
And in spite of Trump's claim, there seems to be very little evidence the results in Colorado were driven by some establishment boogeyman. Believe it or not, the organizations and delegate positions within the state political process are not reserved for powerful establishment elites.
In fact, Tea Party and conservative activists have been incredibly successful in inserting themselves in state political parties all around the country. They have been getting involved, learning their local processes, and doing the heavy lifting to effect positive reforms. Instead of sitting around whining, they are choosing to make the system work for them.
Some people apparently haven't learned that getting involved doesn't mean showing up to vote and then grumbling because you didn't like the outcome or the process. I have very little sympathy for anyone that shows up late to the party and expects everyone to bow to their every deluded notion and half-cooked criticism about how they think the party should be run.
Keep your nose out of other people's primary, caucus, or convention unless you are a member of the party in that state. How Republicans at the state level choose to select their candidates and delegates is none of your stinking business.
–
TheBlaze contributor channel supports an open discourse on a range of views. The opinions expressed in this channel are solely those of each individual author.