Catholic League president Bill Donohue is outraged over comments about Jesus that were made on the Jan. 22 episode of HBO's "Real Time With Bill Maher," with Donohue calling Maher and guest Seth MacFarlane "serial anti-Catholic bigots."
In a statement released by the Catholic League this week, Donohue decried the on-air discussion that the two had about "The 2,000-Year-Old Virgin," a controversial 2014 episode of MacFarlane's show, "Family Guy."
"[Y]ou're so lucky that you do cartoons,because the things you get away with in cartoons — I'm so jealous of," Maher told MacFarlane, before going on to discuss the episode in question. "I saw your show and it was a repeat, I know. Jesus was f**king Peter's wife and not only was Jesus f**king Peter's wife, but it was a scam. He was f**king a lot of people's wives."
Maher added, "And this was your Christmas show."
Watch these comments below (caution: strong language):
Donohue made it clear in his statement that he decries this discussion, taking aim at the comedians' past treatment of Christianity.
"When serial anti-Catholic bigots Bill Maher and Seth MacFarlane get together, it is a sure-fire recipe for new lows in tastelessness," he said in a statement. "And that's what we got on HBO last Friday night, as MacFarlane appeared on 'Real Time with Bill Maher.'"
As TheBlaze previously reported, this particular episode of "Family Guy" enraged critics back in 2014 as well. NewsBusters, for one, said that the episode went "above and beyond the usual sacrilege."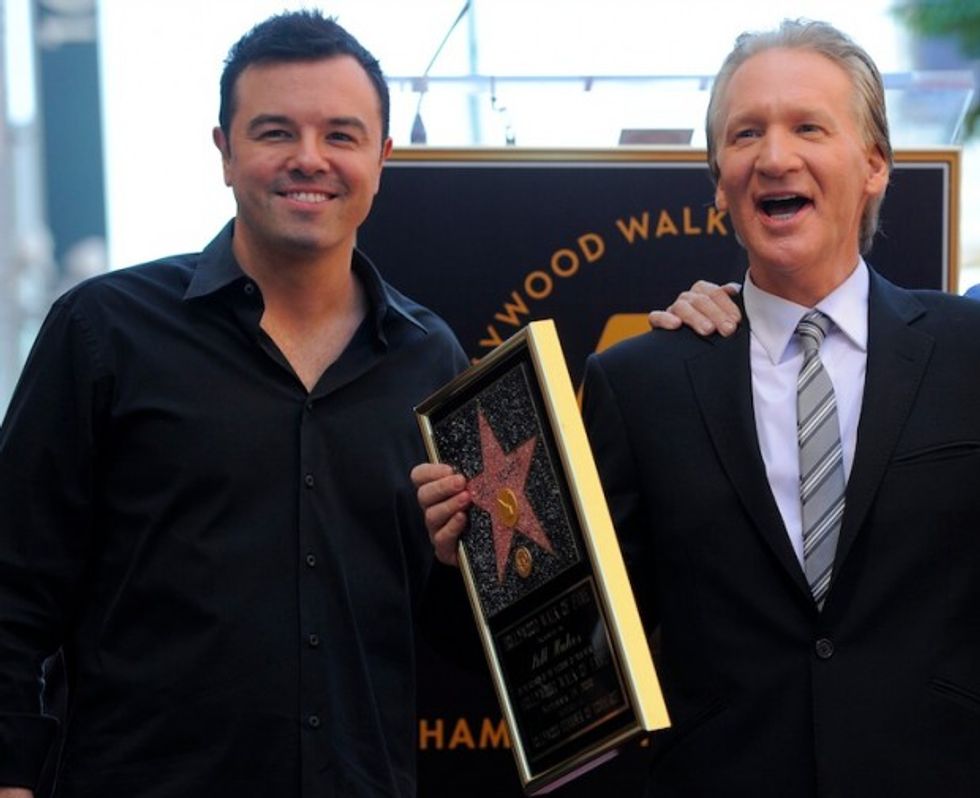 Comedian and television host Bill Maher, center, is joined by animator Seth MacFarlane, left, after he received a star on the Hollywood Walk of Fame in Los Angeles, Tuesday, Sept. 14, 2010. (AP Photo/Chris Pizzello)
"The 2,000-Year-Old Virgin" involved "Family Guy" character Peter Griffin, among others, trying to help Christ lose his virginity, according to Christian Today.
"After running into Jesus at the Quahog Mall, Peter is stunned to discover that the Son of God is still a virgin," reads the episode's synopsis. "So, he enlists Quagmire and Cleveland to help him throw Jesus the best birthday ever by finding a way to help him become a man."
At one point during the episode, Jesus has a specific request for Peter regarding his wife Lois, telling him that he wants to lose his virginity to her — a request that the husband agrees to in exchange for a massage chair.
Comedian Bill Maher during his New Year's Eve show at Neal S Blaisdell Concert Hall on December 31, 2013 in Honolulu, Hawaii. (L. Pemoni/Getty Images)
"Look Peter, I know it's a lot to ask, but if it wasn't okay I wouldn't suggest it," Jesus said while trying to convince Peter to agree.
Read more about the episode here.
Donohue encouraged his supporters to contact Time Warner, the owner of HBO, with complaints about the on-air comments from Maher and MacFarlane.
(H/T: Charisma News)
--
Follow the author of this story on Twitter and Facebook: