Community leaders in Beitar Illit, an Israeli town in the Judean Hills populated exclusively by ultra-Orthodox Jews, hosted an event last week to encourage more citizens to purchase guns as a terrorism prevention measure, including offering deeply discounted handguns for sale.
A reporter for Israel's Ha'aretz newspaper who covered the Wednesday night event observed:
A day after Barack Obama's weepy speech in a bid to restrict the race for handguns in the United States, Betar Ilit's mayor Meir Rubinstein stands on the podium and tells his residents, who are buying guns, that "the more the merrier, regrettably."
The town's news site Beiter Illit News reported that the municipality announcement for the gun event was headlined "And they shall beat their swords," a citation from the biblical book of Isaiah 2:4. It posted this photo from the event:
The municipality notice pinned up around town said the event was organized to encourage citizens to carry firearms for self-defense purposes "in light of the security situation."
At the gathering, residents were told how to apply for a gun license and were shown a variety of pistols they could purchase for 20 to 30 percent below the usual price tag, Israel's Walla news reported.
The gun shop owner displaying his merchandise told potential buyers, "My recommendation is: Buy a gun whose diameter is no less than 9 mm."
Walla noted that because so many residents shun the Internet for religious reasons, firearms license forms normally downloaded by applicants were handed out at the meeting.
The majority of ultra-Orthodox Jews in Israel do not serve in the Israel Defense Forces and have little familiarity with guns; therefore, Beitar Illit might be an alluring target for potential attackers, a municipality spokesman said.
"It is a haredi [ultra-Orthodox] town so most of the residents don't do the army, they don't understand guns but they do want to," the unnamed spokesman told Israel's Tazpit News Agency.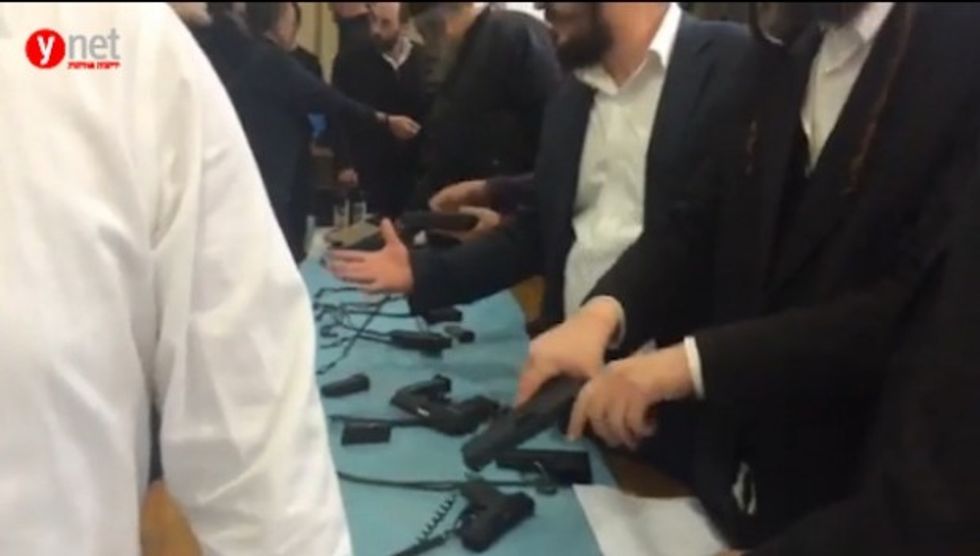 Town leaders expressed concern there are not enough guns among Beitar Illit residents to protect against terrorism. Citizens examine different models at the event sponsored by the municipality. (Image source: Ynet)
Most ultra-Orthodox Jews are exempted from the mandatory military draft in Israel.
An attempted terrorist attack in Beitar Illit was the subject of much media attention in November when a Palestinian woman was caught on security camera lunging with her knife at a security guard positioned at the entrance to the West Bank town.
Israel has faced a wave of nearly daily stabbing, shooting and car-ramming attacks perpetrated by Palestinians. A large number of the assailants were either arrested or killed by security forces or gun-carrying citizens.
Since the wave of violence began in September, the Israeli government has eased access to guns and encouraged citizens to serve as a "force multiplier" alongside police and soldiers, while Jerusalem's mayor — himself a gun carrier — has encouraged residents to carry guns as a terrorism deterrent.
The famous biblical passage from Isaiah, which headlined the municipality's invitation to the gun event, reads in full: "And he shall judge among the nations, and shall rebuke many people: and they shall beat their swords into plowshares, and their spears into pruninghooks: nation shall not lift up sword against nation, neither shall they learn war any more."